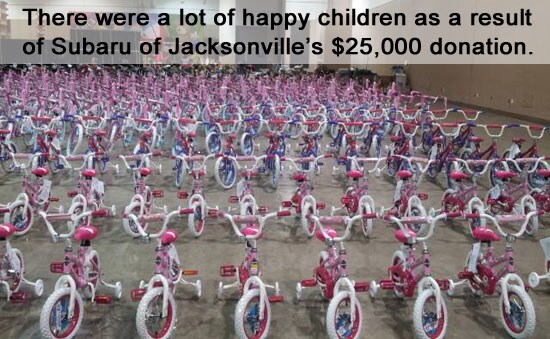 Each December, Subaru of America hosts their annual "Share the Love" Event - where Subaru donates $250 for every new Subaru purchased/leased to your choice of five national charities. In 2013, Subaru allowed dealers to add one local charity to the choice of recipients. Subaru of Jacksonville chose the
Children's Christmas Party of Jacksonville
as their local partner. This worthy charity provides Christmas gifts to up to 8,000 underprivileged children who otherwise would not get to have Christmas gifts. It's a great event that really brings the Jacksonville community together.
Best Christmas Party Ever
Based on the vehicles we sold during December, Subaru's $250 per vehicle donation, and
Subaru of Jacksonville's $250 match, we were able to donate $25,000 to the Children's Christmas Party of Jacksonville
in support of their mission. Diane Halverson, Director of the Children's Christmas party stated, "This is the most exciting thing to happen to the Christmas party - ever!"
Our donation provided toys to hundreds of children who otherwise would not have a Christmas. Our employees also volunteered at the event, so we were able to personally hand out the toys we had purchased. There were smiling children everywhere, and it feels great to "Share the Love!"
Special thank you to the Children's Christmas Party of Jacksonville for partnering up with us and to Target Stores, who allowed us to stretch our toy budget even further with generous discounts! We look forward to a successful partnership for many years to come.