Subaru owners LOVE PETS! So it's no surprise that Subaru of Jacksonville and The Jacksonville Humane Society have teamed up to support pet adoption initiatives in the greater Jacksonville FL area. Each month, or until a selected pet is adopted, we'll be featuring a special pet looking for its
forever
home.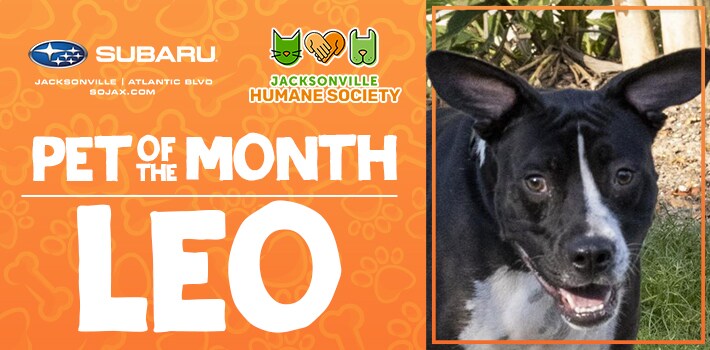 Meet Leo! Leo is a sweet and loving boy with AMAZING EARS! His friends at JHS think he's the handsomest boy ever and Leo fully agrees. Leo has a huge personality just waiting to shine when you take him home! Leo loves toys, especially ones that squeak, peanut butter, and games of tug! He has done really well meeting other dogs and enjoys playing with them. Come meet Leo today and it may just be the beginning of a one-of-a-kind friendship!
Do you want to meet more dogs like Leo? They're waiting to meet you at the Jacksonville Humane Society, 8464 Beach Blvd. Call 904-725-8766, or visit
jaxhumane.org
for more information.
CALL THE JACKSONVILLE HUMANE SOCIETY AT 904-725-8766
TO MEET YOUR NEW MEMBER OF THE FAMILY

--------

About Jacksonville Humane Society
The Jacksonville Humane Society has proudly served Jacksonville since 1885! Each year, JHS transforms the lives of more than 9,000 homeless dogs and cats with compassionate care and community support. JHS also serves more than 3,000 through our pet safety net program, providing free food, training, low-cost veterinary care and even emergency boarding for victims of domestic violence, deployed servicemen and women, and those undergoing cancer treatment. In addition, JHS has a robust humane education program for children with more than 1,500 kids participating each year in our Pawsitive Reading and JHS Camps. To learn more about the Jacksonville Humane Society and how you can help, visit
jaxhumane.org
. JHS is a 501 (c)(3), local independent non-profit organization.