"Those who are happiest are those who do the most for others."
Booker T. Washington
Subaru of Jacksonville Supports Breast Cancer Awareness Month
For 25 years, First Coast News and Baptist Hospital have teamed up for the Buddy Check 12 program. Tens of thousands of women on the First Coast have taken part in the program, with thousands making early detection of breast cancer, literally saving their lives.
Throughout the month of October, we are bringing you some of their stories with our series of reports "Live, Learn, Love". They are stories of overcoming obstacles, learning to cope, and loving those dealing with breast cancer.
We are also trying to help get the word out about breast cancer awareness and support programs throughout our community.
Thanks to our partners at Subaru of Jacksonville, who are partnering with us in this program. Last year, the dealer gave $5,000 to a family dealing with breast cancer. This year, they hope to do more.
- - - - - - - - - -


Subaru of Jacksonville named 2017 Subaru Love Promise Retailer of the Year

Here is what Subaru of America has to say about our recognition:


We proudly congratulate Subaru of Jacksonville for making the world a better place.
Doing things the easy way has never really worked for Subaru of Jacksonville.
Whether working with customers or supporting their community, Phil Porter and his dedicated team believe success lies in one simple belief: Difficult or not, do the right thing.
It's this conviction that led them to donate more than 400 volunteer hours to fund and build six homes for those in need through Beaches Habitat for Humanity, and what inspired Phil to personally support Wolfson Children's Hospital for over five years to helping hundreds of ill or critically injured kids annually.
It's people like Phil and his team who inspired this award in the first place. 
In recognition of their extraordinary community commitment and dedication to making a positive impact in the world in which we live, it is our honor to name
Subaru of Jacksonville the 2017 Subaru Love Promise Retailer of the Year.
- - - - - - - - - -

It's said that you can't build a reputation on what you intend to do, but rather through your actions.  At Subaru of Jacksonville, we live in the community, work in the community and support our community through sponsorships, volunteerism and community events. Here are some recent examples: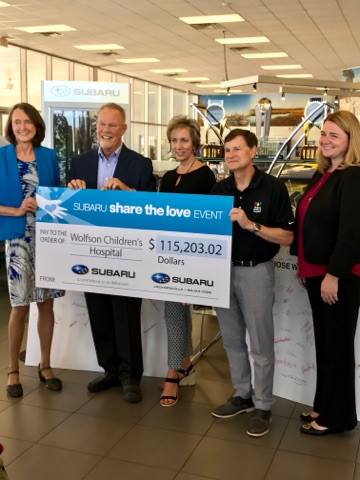 Phil and Roxanne Porter (center) present Wolfson Children's Hospital President Michael D. Aubin (center right) with a check for $115,203.02
On March 24, 2017, Subaru of Jacksonville presented
Wolfson Children's Hospital
with a check for $115,203.02! The Subaru Share the Love campaign had contributions of $57,601.51 (thanks to our Customers and Subaru of America), then Subaru of Jacksonville, and owner Phil Porter, MATCHED that amount of $57,601.51 to bring it to $115,203.02!!
Read Press Release here.
The gift will support care and advanced technology to heal critically injured children at Wolfson Children's Hospital, and towards child passenger safety education through THE PLAYERS Center for Child Health at Wolfson Children's.
Subaru of Jacksonville's match donation is the third largest donation, the second largest match, by a dealer in the United States out of the over 670 Subaru dealers. Subaru of Jacksonville owner, Phil Porter, said, "This donation speaks to our sincere commitment to the community where we live and work. We're proud to match Subaru of America's contribution, and are ecstatic to be able to help children and parents cope with unexpected medical obstacles".
Subaru of Jacksonville supports breast cancer awareness with Family Ties - sponsors local family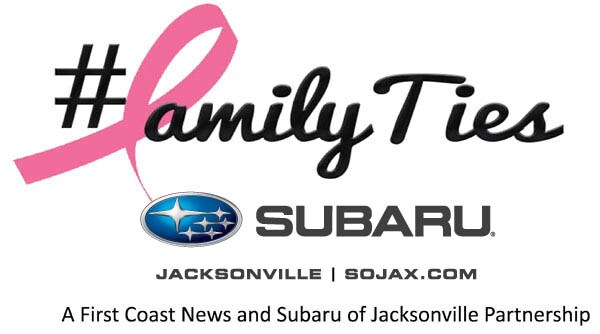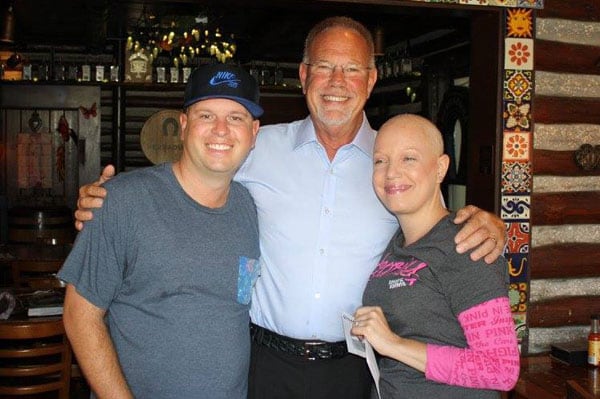 Phil Porter, owner of Subaru of Jacksonville, presents Cami and Tyler with a
check for $5,000 as financial support during Cami's breast cancer recovery.
$157,500 donation to Beaches Habitat for Humanity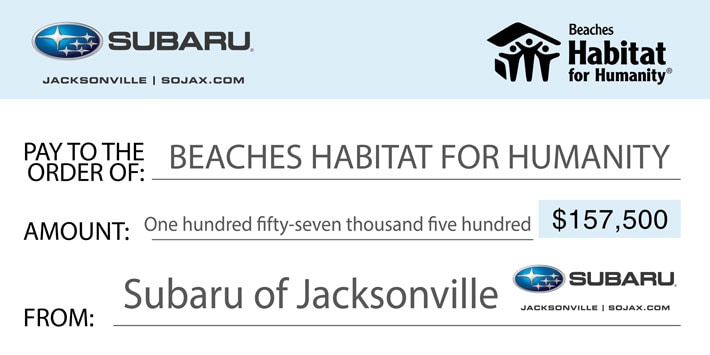 Subaru of Jacksonville is excited to announce the sponsorship of three homes through the Beaches Habitat for Humanity!  We are supporting this awesome organization through a donation of $157,500 and an awesome group of volunteers to help build the homes!  Subaru of Jacksonville team members, family, and friends will all be going out and donating their time and energy.  If you are interested in joining us, please give us a call!  You can find out more about this awesome organization at
//www.beacheshabitat.org/
$116,000 in donations to The Children's Christmas Party of Jacksonville

The Children's Christmas Party of Jacksonville was Subaru of Jacksonville's choice of home-town charity during the past three Subaru Share the Love events.  Our amazing customers (you!) chose CCPOJ as the charity of their choice when purchasing a new Subaru during the event, and we matched those donations to get to an AMAZING (and record-breaking) donation of $55,000 this past year, earning Subaru's Top Contributor Award. 
This brings our three year donation total to $116,000! 
Thank you for your help in making this donation happen.  If you want more information on the CCPOJ, check out their website at
//www.ccpoj.org
.
$15,000 to Child Cancer Fund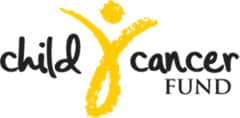 We were so proud to be officially joining the 2016 WOKV Care-a-Thon, supporting the Child Cancer Fund!  The CHILD Cancer Fund is a nonprofit 501(c)(3) organization dedicated to assisting children and their families through the challenges of a childhood cancer diagnosis and treatment. The WOKV Care-a-Thon took place on Friday, June 24th. We were excited to be sponsoring hours and
donating $15,000 to help ensure the success of the day!
  Find out more about this wonderful organization at
//childcancerfund.org/
$17,000 in donations to support our troops

Subaru of Jacksonville is proud to be teaming up with St. Michael's Soldiers.
Over the past year SOJAX has donated $17,000 to this great organization.
St. Michael's Soldiers' mission is to support and honor the sacrifices of our active deployed military men and women through care packages, hero's welcome home celebrations and both financial and physical assistance for our returning local wounded in Duval and surrounding counties.  They are 100% volunteer based, so every dime goes to Supporting the True Heroes and She-roes of America!  Check them out at
www.stmichaelssoliders.org