The 2022 Subaru Love Promise Customer and Community Commitment Award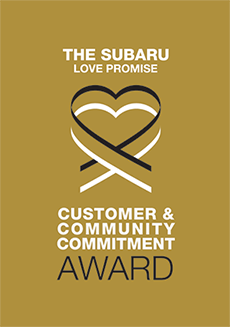 We've been nationally recognized for our dedication to our customers, our community, and the Subaru Love Promise.
We're honored to receive the 2022 Subaru Love Promise Customer and Community Commitment Award. This award nationally recognizes elite Subaru retailers who provide an exceptional customer experience at every interaction with Subaru. These retailers have also demonstrated an outstanding commitment to supporting passions and causes in their local communities in important areas such as the environment, community, health, education, and pets.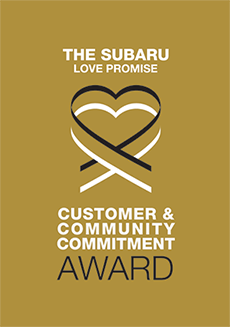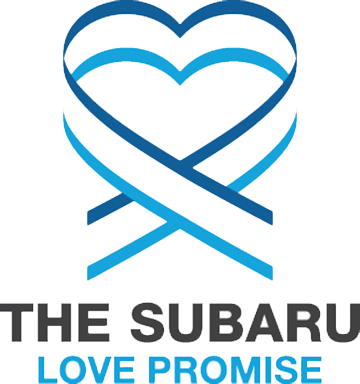 What is the Subaru Love Promise?
Subaru and our retailers believe in making the world a better place and the Subaru Love Promise is our vision of respecting all people. This is our commitment to show love and respect to our customers and to work to make a positive impact in the world.
How is Subaru of Jacksonville dedicated locally to the Love Promise?
At Subaru of Jacksonville, our Love Promise to the Jacksonville area can be seen in our partnerships with local nonprofits and charities. We're grateful for the opportunity, not only to be a part of the Jacksonville community, but to serve it as well.
Bark & Bowl Strike Canine Cancer, Labrador Retreiver Rescue of Florida Pet Adoption, Jacksonville Humane Society
Earth Day & Mini Grant, E-Waste Recycling Event, St John's River Keeper, Satilla River Keeper
Atlantic Beach Elementary, St. John's River Keeper, Arlington Middle School
Make-A-Wish, Dream Genie, Children's Christmas Party, Meals On Wheels, Beaches Habitat for Humanity, BASCA, Hart Felt Ministries , Jacksonville Association of Fire Fighters, Atlantic Beach, Neptune Beach, Jacksonville Beach Police Depts, Feeding Northeast Florida
Breast Cancer Marathon, Hale and Hearty 7k, Muscular Dystrophy Association, Child Cancer Fund, MD Anderson, Wolfson Children's Hospital, Down Syndrome Association of Jacksonville
Love Promise Stories from Subaru of Jacksonville
Subaru and Subaru of Jacksonville believe in making a positive impact on the communities in which we live and work. We uphold that belief through our Love Promise Community Commitment. Every month, we select inspiring stories from customers and partners from around our area who strive to support our collective commitment and feature them here
Subaru Dealer Helps Local Breast Cancer Survivor - Kristen H
This is the seventh year that Subaru of Jacksonville has partnered with First Coast News the local NBC & ABC stations to further awareness about early detection of breast cancer. Phil Porter lost his sister to the disease six years ago and has made it a personal mission to help keep early detection in the forefront. This year Phil and the team at Subaru of Jacksonville came across Kathy's story and wanted to help. Kathy was initially diagnosed with a rare subtype of invasive breast cancer that required multiple years of treatments. She feels blessed to currently be in remission, but she still has lingering issues with lymphedema in her left arm (an all too common side effect of the treatments). Her cancer battle, being out of work temporarily, and the lymphedema have really taken an emotional toll. Kathy recently started a new job and has been able to make a dent in the medical bills that have accumulated. The $5,000 donation from Phil & Subaru of Jacksonville helped Kathy put the last of these medical bills in the rear view mirror! Kathy was so surprised by the help & support and is excited to help pay it forward by continuing her volunteer work with other lymphedema patients. The team at First Coast News is honored to partner with Subaru of Jacksonville to help recognize breast cancer warriors in our community. This is just one of many examples of how Phil Porter and the team at Subaru of Jacksonville give back to our community.
---
Subaru Dealer Helps 31 Underdogs Find Homes - Lindsay L
Subaru of Jacksonville has been a dedicated and faithful partner of the Jacksonville Humane Society for many years. In October of 2021, not only did the dealership team up with the ASPCA to host the Jacksonville Humane Society at their location for an adoption event, but they also helped an extra 31 underdogs find homes! Many people may not know, but large dogs have a more difficult time finding homes in shelters than others. When faced with landlord restrictions on size, the options for bigger dogs can be limited. Luckily, Subaru of Jacksonville heard this news and stepped up to help. With support from Subaru of America, SOJ helped the Jacksonville Humane Society by sponsoring the adoption of big dogs in October! This support was life changing for dogs like Slate. Slate weighed 60+ lbs and was very goofy. His new parents came to JHS and fell in love with his smile. They were excited to take him home to play in their big yard! Slate had been waiting for three weeks to find a family and was so happy to go home.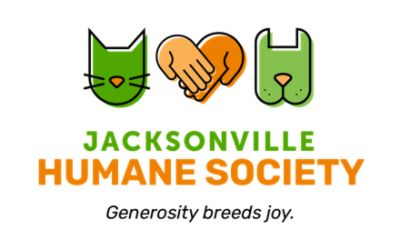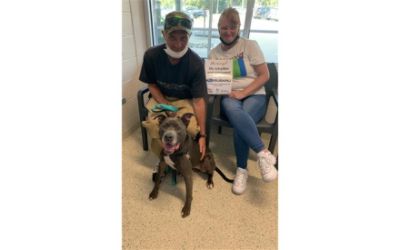 ---
2021 St. Johns Riverkeeper Ecotours - Jamie D
With the help of Subaru of Jacksonville's donation, St. Johns Riverkeeper was able to take over 400 students on our educational ecotours in 2021. Our ecotours provide an opportunity for students and families to experience the river on the St. Johns River Water Taxi while learning about the river's ecology, history, and importance. Some of our ecotour highlights this year include testing the salinity of the river in downtown Jacksonville, learning about the birds of our river while visiting a rookery in Lakeshore, and even spotting many of our local bottlenose dolphins! Many students mark ecotours as their first boat ride on the St. Johns River, and it is increasingly important to involve the younger generations in advocating for our river. Thank you Subaru!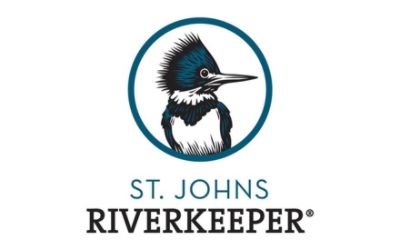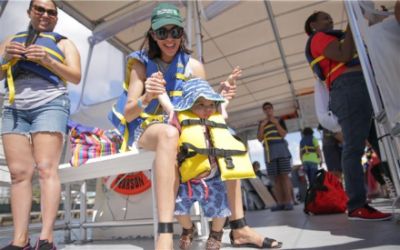 ---
SOJAX Supports Individuals with Special Needs - Patrick K
There are some great businesses in the Jacksonville area and among the best is SUBARU of Jacksonville! BASCA, Inc. provides Residential, Day Programs, and Transportation services to individuals with special needs in Northern Florida. We exist today due to community partners that support us through donations. SOJAX has been one of the greatest supporters of BASCA. As the Title Sponsor for BASCA's Golf Tournament, we have raised almost $400,000 over the years, and we could not have done it without SOJAX's support. Thanks to their continued support, we have grown our fleet to 12 transportation vehicles, 3 of which are wheelchair accessible. A growing fleet allows us to serve more individuals in our programs and provide greater community involvement. Their support has also helped us continue enhancing our Day Training Programs, including delivering more Supported Employment services to our special needs workforce. SOJAX's commitment to our organization and their incredible people have made this partnership one that BASCA is proud and privileged to have.
---
SOJAX Brings Joy to Wolfson Children's Hospital - Laura C
The heart and passion for children is abundantly clear among our partners at Subaru of Jacksonville. Their outstanding support of this year's 10th annual Christmas in July campaign at Wolfson Children's Hospital is going make a major impact for countless children for weeks and months to come. The donation drive held every summer is dedicated to re-stocking Wolfson Children's toy and supply shelves for patients fighting various health battles, and raising critical funds for the children's hospital. From baby dolls and puzzles to musical instruments and books, these toys and games help normalize the hospital experience for children and assist in educating them about their conditions and procedures they will undergo. For babies and younger children, the toys help them continue to develop physically and cognitively stay on track during their hospital stays. This year Subaru of Jacksonville served as the presenting sponsor of Christmas in July with a $25,000 gift, and also engaged its team members and our community by hosting toy collections throughout the month of July in their showroom. The dealership itself purchased $2,000 worth of toys from the Wolfson Children's Amazon wish list, and employees personally donated nearly $1,000 worth of toys and games. And Subaru Ambassadors and other folks throughout the community supported their efforts and added to their donation of toys. The team brought carloads of toys and games to the hospital at the culmination of the campaign in late July. "This has been a tough year for all kids, and even more so for those who required treatment in the hospital," said Susan Kinnebrew, CCLS, associate director of Family Support Services at Wolfson Children's. "These toys help bring some joy and encouragement to help children persevere through whatever health battles they are fighting."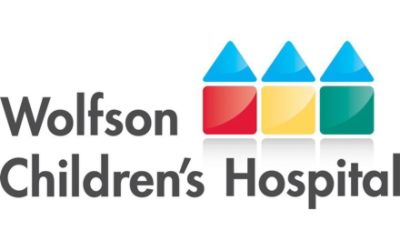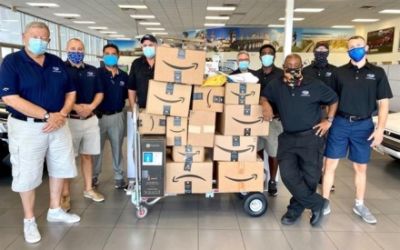 ---
More than just Memorial Day - Kim B
While many retail businesses hold annual Memorial Day Sales, Subaru of Jacksonville wanted to take a different approach and honor the holiday as it should be honored. Subaru of Jacksonville chose to support the incredible St Michael's Soldiers organization throughout May and committed to make a donation with every new Subaru sold during the month. St. Michael's Soldiers supports the troops, deployed and home, through various means ranging from sending care boxes to throwing homecoming parties. Subaru of Jacksonville has proudly been supporting this organization for many years in various ways.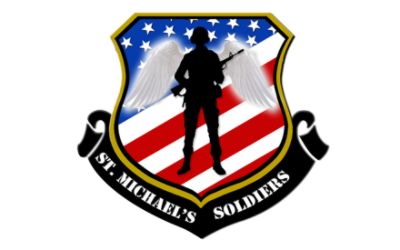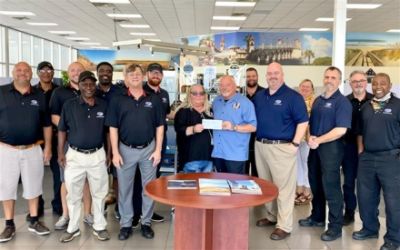 ---
The Queen Finds Her Castle - Lindsay L
Queen, a small white Chihuahua mix, came to the Jacksonville Humane Society as a stray. She had a large mammary mass that needed removal. We scheduled her for surgery and then had the task of finding the teeniest, tiniest e-collar (cone) in the shelter because she was so small! Anxiously waiting to meet her new family, Queen was wagging her tail when Teresa walked in on Saturday, the first day of the event. Teresa was so excited because she had been looking for a small dog to adopt, and Queen was the smallest in the building. Teresa was not deterred knowing that Queen will need follow-up care due to her surgery. Thanks to Subaru and ASPCA, she was the first dog to go home that day.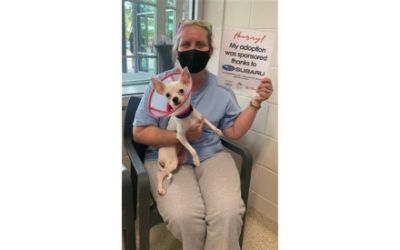 ---
SOJ Surprises Local Breast Cancer Warrior - Kristen H
1 in 8 women will be diagnosed with breast cancer in their lifetime. It's a staggering statistic and a battle that affects many families in our community. It's also a battle that Phil Porter and his family unfortunately know all too well…Phil lost his sister to the disease five years ago and has made it a personal mission to help keep early detection in the forefront. This is the sixth year that Subaru of Jacksonville has partnered with First Coast News to further awareness about early detection of breast cancer, share the stories of breast cancer warriors and recognize the impact this disease has on families throughout our community. This year Phil and the team at Subaru of Jacksonville saw Michele's story on the stations and wanted to help. Michele and her daughter Brittni are part of our stations Buddy Check program reminding women to do a monthly self-exam. This early detection helped Michele catch a very aggressive form of Breast Cancer in its early stages. Michele is currently undergoing treatment and thankfully her prognosis is good. She's been unable to work due her weakened immune system and needing to avoid exposure to the corona virus. Once Michele was healed enough from her surgery, Phil and the team at Subaru of Jacksonville sprung into action. They surprised Michele with a check for $5,000 to help her with bills and expenses so she could focus on healing and her upcoming chemo treatments without having to worry. Michele was overwhelmed with the help and support. This is just one of many examples of how Phil Porter and the team at Subaru of Jacksonville embrace this community. The team at First Coast News is honored to partner with Phil and Subaru of Jacksonville to help honor breast cancer warriors in our community.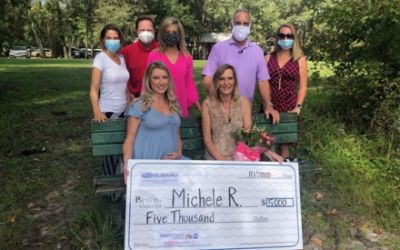 ---
200,000 Meals Donated to Families in NE FL - Heather G
Feeding Northeast Florida would like to recognize Subaru of Jacksonville for their generous contributions during 2020. Feeding Northeast Florida serves 360,00 individuals who identify as food insecure in our 8-county service area. Since the beginning of COVID-19, the need for food resources has nearly doubled. In fact, Feeding Northeast Florida is on track to provide 28 million meals by the end of 2020. We could not begin to meet the increased need without the support from organizations like Subaru of Jacksonville. During the height of the pandemic, Subaru of Jacksonville stepped up and donated $20,000 to our organization which provided 200,000 meals for families in Northeast Florida. In addition, Subaru of Jacksonville employees volunteered in our warehouse, sorting and packaging food for distribution. Their dedication and commitment were paramount during a time when volunteers were scarce, and demand was high. Together, the Subaru of Jacksonville team donated 114 volunteer hours to our organization. It's support from organizations like this that makes what we do possible. We are incredibly thankful for Subaru of Jacksonville's support and generosity.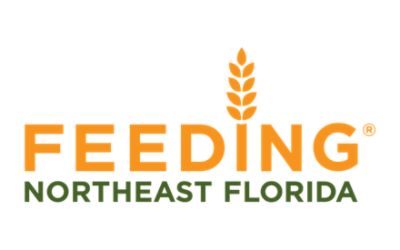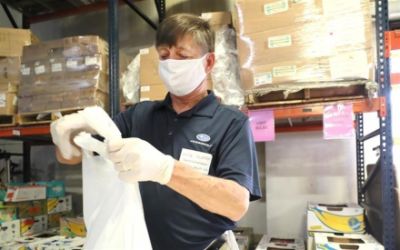 ---
Cancer Doesn't Pause For A Global Pandemic - Carla M
In July 2020, the 6th Annual Care-a-thon went virtual. During the week-long radiothon, partners like Subaru of Jacksonville on Atlantic made sure that local children and their families fighting pediatric cancer had the support they needed during these challenging times. Families have been hit especially hard in 2020 as cancer doesn't pause for a global pandemic. This year, thanks to partners like Subaru, we hit $1 million dollars raised in six years of the Care-a-thon. We are so grateful for this valued partner.
---